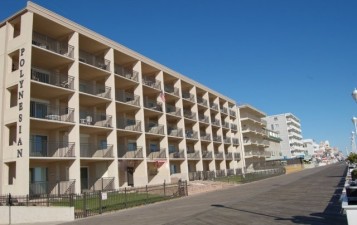 Legend:
These dates are available for check-in.
These dates are available for booking.
These dates are not available for check-in.
Description of Property
Polynesian 107 is a nice, bright unit with tiled floors throughout. Brand new living room chairs to sit, sip, relax and watch the Ocean City visitors on the boardwalk.
Ground level patio provides direct access to the boardwalk and beach 
Updated bathroom 
There are  two double beds in the bedroom and a queen sofa bed in the living room.  
One parking space included.
Building has elevator and common area laundry 
NO MORE THAN 3 PEOPLE ARE TO BE OCCUPYING THE UNIT .THIS INCLUDES CHILDREN
No pets allowed.  No smoking, please.

Free WIFI
Special note: Since this is a 'manually updated rental system", the online confirmation you receive "is not" an official confirmation, once your reservation request is received you will be contacted by Mann Properties.
Air Conditioning

(1)

Balcony Furniture

(1)

Coffee Maker

(1)

Disposal

(1)

Elevator

(1)

Indoor Pool
Laundry Room

(1)

Microwave

(1)

Outside Shower

(1)

Parking Spaces

(1)




One

Refrigerator

(1)

Stereo
TV

(2)

VCR

(1)
Balcony

(1)




Ocean Front Patio

Central Air

(1)

DVD Player

(1)

Elevator

(1)

Heat

(1)

Internet Access

(1)




FREE WI FI

Laundry Room

(1)

Non Smoking

(1)

Parking Spaces

(1)

No Pets Are Allowed
Stereo
Stove

(1)

Toaster

(1)

Vacuum

(1)
Bedroom Info
Bedroom


Double , Double Sofa
Select dates below to search rates and availability.
Polynesian Condominium Policies
 NO SMOKING
NO PETS ALLOWED
ONE PARKING SPACE PER UNIT
Rental License #0047919
Property Policies
No personal checks will be accepted unless received 30 days prior to check-in.  No foreign currency will be accepted.  Balance due is acceptable only in cash, certified check, money order, Visa, MasterCard, and Discovery.  Additional payments may be made prior to check in by calling the office.
TV is provided as a courtesy of the owner.  If it should not function, we cannot guarantee repair.  Available channels may vary by unit. 
One parking space per unit is provided.
No personal items are provided; no linens, towels, blankets, radios, telephones, hangers, paper products, or clocks are furnished.
Kitchens are furnished with dishes, flatware, cooking utensils, glasses, toasters, coffee pots, refrigerators, microwaves, and stoves. 
The property shall not be used for other than family occupancy or for any illegal activity or purpose.
Guest agrees that s/he must abide by all rules and regulations set forth by the Condominium Association as well as City ordinances,  Should Guest violate any rules set forth, s/he may be evicted immediately without prior notice and all monies shall be forfeited.  Any violation of the "no pet rule" or "occupancy limit" shall result in eviction of all guests.
We strive to provide the highest level of guest satisfaction to all guests utilizing the condominiums.  In order to do this, we have adopted a No Party Tolerance Policy.  If for any reason, a guest in any unit disturbs or disrupts any other guests, we reserve the right to evict violators with no refunds of any money paid.  In accordance with state and local laws, all persons must be 21 years of age or older to consume alcoholic beverages or to have alcohol in their possession.  All violators of this policy will be evicted without refund of any monies paid.
Anyone occupying or using the property other than Guest and his/her immediate family must be registered with and approved by Agent.  Guest is responsible for all persons occupying or using the property and any/all damages caused by same.
Guest understands that s/he does not have exclusive possession and control of property during reservation period.  Agent and/or owner may inspect property  at any reasonable time.  Property may be entered for the purpose of repairs at any reasonable time.  Noncompliance with this condition may result in Agent removing Guest, family, and other occupants from premises without resorting to legal process and without liability for such action.
If Guest desires to cancel this reservation prior to date of occupancy, Agent's policy will be: If cancellation occurs 30 days or more prior to check in date, Agent shall refund amount paid in excess of 15 percent of the base charge, which Agent shall retain as a cancellation fee. If cancellation occurs within 30 days of check in and the Agent does not obtain reservation for the entire period of time, all monies shall be forfeited.
Guest shall not be entitled to any refund for inoperative appliances, televisions, or air conditioners.  Agent, however, upon being notified of any malfunction, will make every reasonable effort to have same repaired.
Guest understands and agrees the Owner, not Agent, shall  be responsible for the performance of this agreement and condition of property.
Guest agrees to surrender possession of the property hereby leased at the expiration of this lease, peaceably and without delay, in as good and same repair as it was found at the commencement of this lease.  Guest agrees to reimburse Owner the costs, including attorney fees, of all damages.  Acts of God, and/or other causes over which the Guest has no control are excepted.
The full amount of the rent and all taxes thereon shall be due at the time of the beginning of the rental period.  Guest shall not be entitled to possession unless said amount has been paid to Agent.  Payment of the balance of the rent due must be made in cash, certified check, or MasterCard, Visa, or Discover.  Guest's personal check is not acceptable unless it is certified.  Unless payment is received in full at least 30 days prior to occupancy, property cannot be held more than 24 hours from the beginning of the lease.
Check-in from 2 pm until 5 pm on day of occupancy.  Please contact the office if you expect to arrive later than 5 pm.  Check-out is promptly at 10 am on last day of occupancy.
The lease shall be deemed to have been accepted by Guest by virtue of Guest tendering a deposit as required.  Said lease will be acknowledged by Owner or Agent within 10 days of receipt of deposit.  Guest will sign lease prior to or at time of occupancy or cancellation.
No pets or animals of any kind are permitted on the leased premises.  Violation of this covenant will be considered grounds for immediate eviction of Guest.
If, in the sole discretion of the Agent, the Guest becomes objectionable to the neighbors of the premises, the Guest agrees to vacate the unit with all effects from the premises at the request of the Agent.  If Guest fails to vacate upon the Agent's request, he will become liable for all damages for the holding over in violation of this provision of the lease.
In the event that the Agent, by negligence or oversight of its employees, causes the property to be rented for the rental period of this lease by one or more other leases, the Guest under this lease shall be entitled to the rental only if: (1) Guest is placed in occupancy of the property by the Agent before the parties to any other lease; or (2) assuming no other person has been placed in occupancy of the property by the Agent, this lease became binding on the parties hereto at a time earlier than other lease become binding on the parties thereto.  Should Guest not be entitled to the rental of property as provided herein and should Agent not be able after reasonable effort to relocate Guest to a reasonable comparable property, Guest shall be entitled to payment by Agent of all amounts paid by Guest hereunder.
No representation agreements, undertaking or promises, whether oral, implied, or inferred have been made by either Landlord or Guest or their agents unless expressly state herein.
A responsible adult shall be in attendance for the entire reservation period.
We are required by law to inform you in writing that there is a "Noise Control Ordinance" in effect as of May 4, 1982.
Property is cleaned between 10 am and 2 pm on a weekly basis.  Agent can not guarantee delays in occupancy will not occur because cleaning has not been completed by 2  pm.
Agent can not be responsible for items left in rental units.  Please leave the unit as you found it with the furniture arranged the same way, no food in the refrigerator, trash bagged and taken to dumpsters, and dishes cleaned and put away.  Please respect the owner's property as you would your own. 
Thank you.