Ocean City Vacation Condo Rentals
Get the best vacation rentals deals in Ocean City, Maryland at the best Ocean City condos and beach house rentals.
Find the perfect Ocean City, MD vacation rental for your next family beach vacation.
Add Your Property
Attention Rental Agencies and Individual Owners!
Put your property in front of millions of visitors to Ocean City, Maryland. No Listing or setup fees. No risk - cancel anytime.
More Info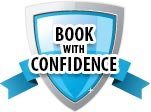 Who Is ShoreRent?
A local company, providing big savings & real value for you...
ShoreRent staff is local and knows the vacation rental agencies and property owners personally. We are in touch with these agencies and owners on a daily basis to get the best rates and ensure the best deals for our guests.

In addition, ShoreRent's parent company, D3Corp, is a business and community leader in the Ocean City area and its executives have been presidents of the Ocean City Chamber of Commerce and Berlin Chamber of Commerce.

Book with confidence with a real company with real people and live service representatives to assist you. Read More