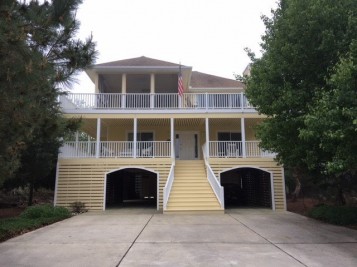 Bedrooms 5
Sleeps 10
Bathrooms4.5
Legend:
These dates are available for check-in.
These dates are available for booking.
These dates are not available for check-in.
Description of Property
This single family home is located in the private community of Ocean Ridge and is located in North Bethany. Spacious and inviting layout for family and friends to enjoy their summer vacation, this home has 5 bedrooms, 4.5 bathrooms and can accommodate up to 10 people. Located on the oceanside, this home is just a 1/2 block to the beach.

The community at Ocean Ridge offers pool and tennis along with a private coastline to enjoy sun and fun all day. 

This home rents weekly from Saturday to Saturday.
Air Conditioning (1)
Central
Dishwasher (1)
Outdoor Pool (1)
Community West Side
TV (1)
Color
Vacuum (1)
Balcony Furniture (1)
Gas Grill (1)
No Pets Are Allowed
Tennis (1)
Washer/Dryer (1)
Bedroom Info
Bedroom 1
Queen
Bedroom 3
Queen
Bedroom 5
King
Bedroom 2
Queen
Bedroom 4
Twin , Twin
Select dates below to search rates and availability.
Rental Lease Agreement
       LODGING AGREEMENT
CANCELLATIONS: If Guest(s) cancels this agreement, Owner/Agent shall keep deposit, less Agents commission. If Agent is able to re-rent premises, Agent will refund Tenant's deposit less 15% charge on the total amount of rental. Guest(s) may not assign this contract or sublet premises without permission of Owner/Agent or Agent.    REMAX Coastal processing fee is non-refundable.
PROPERTY INSPECTION: Guest(s) acknowledges that he/she has personally inspected the rental property and accepts it in an "as is" condition, or if he/she has not inspected the premises, he/she waives the right to withhold rent for any alleged deficiency in the premises or to otherwise claim that the property has been misrepresented to him/her either by Owner or Agent.
NUMBER OF OCCUPANTS: Occupancy shall be limited to only the maximum  Amt per the Owner's request.
REFUNDS: It is mutually agreed that if, during the term of this lease, if a mechanical failure occurs to the fixtures or appliances in the leased premises, without fault or negligence of the tenant, the Landlord or his Agent will act promptly to have any malfunction corrected. THERE WILL BE NO REFUNDS. Any breakage or damage to the unit caused by Guest(s) shall be responsibility of the same.
TELEPHONE:No telephone is included in the agreement. If a telephone is on the premises, Guest(s) will use credit card, have call billed to home phone, or reverse charges.
PETS: NO PETS PERMITTED. VIOLATION SHALL RESULT IN IMMEDIATE EVICTION.
KEYS: Guest(s) will be furnished with (2) keys to premises. Guest(s) will be liable for a lost key charge of $35.00 for each key lost. A fee of $75.00 will be charged for lockouts. Please return all keys to Remax Coastal on or before 10:00 a.m. on the day of check-out. The gray key box is located on the right side of office door.
BED LINENS, TOWELS & PAPER PRODUCTS: Tenant must furnish all necessary sheets, pillow cases, (not pillows) towels, and paper products required for personal use.
MESSAGES: Agent cannot accept messages, faxes, or packages for Guest(s) at Rental office.
COMMUNITY RULES: Guest(s) agrees to obey community and condo rules on the use of common areas and recreational facilities.
TIME IS OF THE ESSENCE in this agreement, and Guest(s) shall be liable for damages for any holdover.
VIOLATIONS: Any nuisance or breach of peace by Guest(s) shall be a breach of this agreement and the Owner or Agent shall have right to enter and peacefully repossess premises.
OCCUPANCY: The Guest(s) signing this contract must personally be in occupancy during full term of the lease, and Guest(s) will not assign or sublet.
TELEVISIONS, DVDS, VCRs, TELEPHONES, INTERNET SERVICE, GRILLS (if provided) are a courtesy of the owner. There is NO GUARANTEE that they will be in working order during term of lease. Owner will not provide charcoal or propane.
CLEANING: Any complaints must be reported day of arrival. NO REFUNDS. If necessary, cleaning may occur until 6:00 PM
Remax Coastal reserves the right to move Guest(s) to another unit.
NO SMOKING ALLOWED IN UNIT. Violation will result in immediate eviction.
SERVICE CALLS: Unnecessary GUEST(S) RELATED service call or repairs will be deducted from the security deposit at the discretion of the Rental Manger. If there is a service call and the vendor determines that everything is working properly and REMAX Coastal is billed for that call we will deduct it from the security deposit.
TERMINATION OF LEASE: The lease will expire at 10:00 am on the date set above and all keys to be returned to the real estate office. If the Guest(s) or family members create any disturbance of the peace which is reported to the Owner/Agent, Police, or Real Estate Company or violates any terms of this lease, the Guest(s) at the sole discretion and demand of the Owner and/or his Agent agrees to vacate the premises immediately upon said demand by the Owner and/or his Agent. CAUTION: Specific violations of the law, i.e., Acts of Domestic Violence, Assault, Drug Use and/or Possession of Contraband, Destruction of Property, Underage Drinking and/or Contributing to the Delinquency of Minors are strictly prohibited and will be cause for IMMEDIATE EVICTION OF ALL OCCUPANTS AND FORFEITURE OF ALL MONIES associated with the lease of this property. Owner and/or his Agent reserve the right to inspect the premises at any time should there be evidence of activities as noted above.
20.SECURITY DEPOSIT: Any deductions shall be at the sole discretion of the agent without protest from Guest(s). Security Deposit will be refunded Four (4) weeks from the date of Checkout as long as there is no damage to property, house left excessively dirty, outstanding Guest(s) related repair bills, telephone or pay- per- movies billed to the owner.
21. All furniture shall be replaced in the same position it was found at the beginning of rental. In the event that furniture is rearranged but not replaced by time of departure, tenant shall be forfeit security deposit in full.
POOL & PARKING PASSES: If the rental unit has pool or parking privileges, Guest(s) may request the passes at check-in with a deposit of $50.00 per each pass, If pass is lost or destroyed we will retain the deposit. Deposits will be taken at the discretion of the Rental Manager. If no deposit is held and tenant does not return the pass, the cost of replacing the pass shall be deducted from the security deposit with no protest. Guest(s) renting Sea Colony or Sea Villas shall purchase their Rec Badges directly from Sea Colony located in the Marketplace. REMAX Coastal has no responsibility for the price of Sea Colony Rec Badges.
Late Check-out: If you check-out after 10:00 AM on check-out date, per owner's request REMAX Coastal is required to deduct up to a full days rent from your security deposit.
Typically: East Side of Route 1 Security Deposit: $1000; West Side of Route 1 Security Deposit: $500.
SECURITY DEPOSIT TO BE PAID WITH BALANCE OF RENTAL.
I HAVE READ AND AGREE TO THE TERMS AND CONDITIONS OF THIS AGREEMENT:
        _________________________
Guest Signature          Date               , Broker
Security Deposit
The following is an addendum to your Lease. Please read, sign and date.
Security deposits will be returned within four (4) weeks of the day of departure provided there are no deductions. Deductions from the security deposit are in accordance with paragraph 20 of the Reservation Confirmation, at the sole discretion of the agent. Deductions from the security deposit are withheld for the following problems:
If a pet was found to have been in the house.
If more people than the lease allows are found to have occupied the home.
If we find guests have smoked in a designated "non-[smoking" area. As a reminder, all our units are non-smoking.
If it takes more than two (2) hours for a cleaning crew to clean a rental unit.
If food is left in the refrigerator or in kitchen cabinets.
If dirty dishes are left in the kitchen sink, refrigerator or on countertop. All dirty dishes should be placed in the dishwasher and run through the cleaning cycle.
If furniture has been moved and not returned to its original position (both indoor and outdoor furniture).

If trash/recycling is not placed in plastic bags and put in the proper outside containers.  If there is damage to walls, furniture, upholstery, bedding, carpet, vinyl (stains, tears, burns, scratches) or any other damage/accidents and or broken items.  If all keys and parking/pool passes are not returned to our office.
If there are unnecessary service calls made for heating/air conditioning, appliances, plumbing, electrical due to tenant issues. Some examples of such misuse are as follows: Setting A/C lower than 72 degrees resulting in the unit "freezing up" and not cooling properly.
  Not having the stove-top burner elements plugged in properly.
Allowing foreign objects such as glass, crab shells, bottle caps, etc., jam the garbage disposal.  Setting the refrigerator below normal settings. The refrigerator should be set at the normal setting and not adjusted. Turning the refrigerator setting too low in an attempt to cool an overload of food more quickly will result in the refrigerator 'freezing up"
  Creating a sluggish or clogged commode problem with excessive paper, foreign objects, disposable diapers, etc. An effort to clear blockage by plunging should be made before a service call is requested.
Late check-out (after 10:00 am on departure date).
If cleaning and/or damages exceed the amount of security deposit, tenants will be invoiced for any additional costs.
Guest Signature                         Date
Occupants: YOUR RENTAL UNIT HAS AN OCCUPANCY LIMIT OF ____ PEOPLE.
YOU MAY NOT EXCEED THIS NUMBER!
SORRY, NO EXCEPTIONS!! Please list the names of each person staying in your rental property.                                          THIS SHEET MUST BE RETURNED WITH YOUR LOGGING AGREEMENT
      Last Name                    First Name
1.  ________________________________________________________________     
2.  ________________________________________________________________
3.  ________________________________________________________________
4.  ________________________________________________________________
5.  ________________________________________________________________
6.  ________________________________________________________________
7.  ________________________________________________________________
8.  ________________________________________________________________
9.  ________________________________________________________________
10. ________________________________________________________________
11. ________________________________________________________________
12. ________________________________________________________________
13. ________________________________________________________________
14. ________________________________________________________________
15. ________________________________________________________________
16. ________________________________________________________________