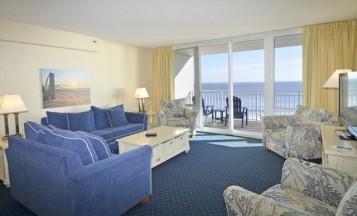 Bedrooms 3
Sleeps 10
Bathrooms2
Legend:
These dates are available for check-in.
These dates are available for booking.
These dates are not available for check-in.
Description of Property
This is a 3 Bedroom Deluxe (Double Balcony) Unit (no den), the Living Room and Master Bedroom have oceanfront balconies. Master Bedroom has a private bath, there is a second full bathroom in the unit. We provide your initial set of towels, linens for all beds, paper towels, toilet paper, tissues, dishwasher detergent, dish washing liquid & laundry detergent, coffee, cream & sugar. We also provide an initial supply of standard bathroom amenities; soap, shampoo, etc. are also provided. The condo is furnished with a basic set of pots & pans, utensils, glasses, cups & dinnerware.
***************
A two night minimum rental is required for all reservations - One night reservations can not be accepted. Daily maid/linen service is not provided with this unit (6th floor units only). Check in time after 4:00pm. Check out time by 10:00am. Sorry, pets of any kind are not allowed in the rental units.
*******please contact the hotel for mini-week availability*******
A $35.00 (non-refundable) processing fee will be applied with the required deposit (1/2 of room charge and 11% tax) for all daily, mini-week & weekly reservations.
***************
Special note: the on-line confirmation you receive "is not" an official confirmation, since this is a "manually updated system." you will receive by e-mail a final confirmation from glen.cropper@carouselhotel.com or reservations@carouseloceanfronthotel.com. The condo you have selected may have already been rented, so please have a 2nd choice in mind & make sure the phone information you provide is accurate so that we may contact you in case of a discrepancy. If we are unable to contact you within 24 hours your reservation may be reassigned to another comparable unit or cancelled. You will be notified by phone or e-mail of any changes. Additionally, you will be contacted for any reservation that does not meet the minimum stay, date range or availability requirements.
***************
AC Volume (1)
Central Air (1)
Clock / Radio (1)
DVD Player (1)
Disposal (1)
Elevator (4)
Servicing Hotel & Condo Floors
Gameroom (1)
Located near the Skate Shop in the Atrium
Indoor Pool (1)
Heated - Open Year Round
Iron (1)
Linen Package (1)
Initial linens and towels provided - No Daily Maid Service
Non Smoking (1)
THIS IS A NON-SMOKING UNIT
Outside Shower (1)
No Pets Are Allowed
Sauna (2)
Located in the Pool Area
TV (4)
Tennis (1)
Washer (1)
in each Condo
Balcony Furniture (1)
Childrens Pool (1)
Located on Oceanfront Deck - Heated (May-September) Weather Permitting
Coffee Maker (1)
Complimentary Coffee Provided
Dishwasher (1)
Dryer (1)
in each Condo
Excercise Room (1)
Located in the Pool Area
Heat (1)
Internet Access (1)
FREE WiFi - Passcode provided upon request
Laundry Room (1)
in each Condo
Microwave (1)
Outdoor Pool (1)
Located on Oceanfront Deck - Heated (May-September) Weather Permitting
Parking Spaces (2)
Refrigerator (1)
Stove (1)
Telephone (2)
Living Room & Master Bedroom
Vacuum (1)
Bedroom Info
2nd Bedroom
Double , Double
Master Bedroom
King
3rd Bedroom
Queen , Queen
Select dates below to search rates and availability.
Weekly Only: This unit is available for weekly rentals only with Saturday, Sunday, Monday, Tuesday, Wednesday, Thursday, Friday check-in and check-out.
8/6/22 to 8/12/22
10/23/22 to 1/6/23
No Party Policy
We strive to provide the highest level of guest satisfaction to all guests utilizing the hotel. In order to maintain the highest standards possible, the Carousel has adopted a No Party Tolerance Policy. If for any reason a guest in any room or condominium disturbs or disrupts any other hotel guest, the Carousel reserves the right to evict any violators with no refunds of any money paid. In accordance with state and local laws, all persons must be 21 years of age or older to consume alcoholic beverages or to have alcohol in their possession. All violators of this policy will be evicted without refund of any money paid.
Pet Policy
Sorry, pets are not allowed in the Rental units.
Cancellation Policy
We have a 21 day cancellation policy. Reservations canceled prior to 21 days of your arrival date will receive a full refund of the room and tax deposit The Processing Fee is non-refundable. Reservations canceled within 21 days of arrival will forfeit the full room and tax deposit. Please contact the Condominium Rental Office toll free at 866.622.2282. Cancellations can't be made on line.
Credit Card Policy
The credit card that is used to secure your reservation must be be physically presented upon registration. If the credit card being used can not be presented and/or belongs to a third party, an authorization form will be provided upon request. This is a security precaution to protect your personal information.
Smoking Policy
The Carousel is a non-smoking building - smoking is not permitted in the condominiums or on any of the balconies of the condominiums - your account will be charged $350.00 for a special cleaning fee if we find evidence of smoking. Please use designated smoking areas. Thank you - your cooperation is greatly appreciated.
Ice Rink - Scheduled Closings
LIMITED HOURS - PLEASE CALL AHEAD for these dates: December 12-25, 2021 January 3-26, 2022 Limited hours for these dates: January 28-30, 2022 February 4-6, 2022 February 25-27, 2022 March 4-6, 2022
Indoor Pool - Scheduled Closings
Closed: December 12-25, 2021 Closed: January 3-26, 2022 Limited hours for these dates: January 28-30, 2022 February 4-6, 2022 February 25-27, 2022 March 4-6, 2022